Palm Beach Divers Overview
One of the most established PADI diving centers on Koh Lanta is Palm Beach Divers, who are run by a team of European professionals on Long Beach.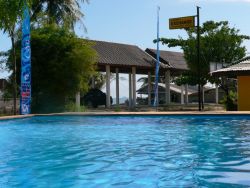 They have PADI 5 Star accreditation and are the only dive center on Koh Lanta to have their own diving-designated pool, which they use for safely teaching scuba diving skills. In addition, Palm Beach Divers have and run two diving boats, one which is large and comfortable and the other fast and convenient.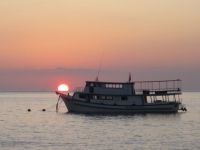 Palm Beach Divers is located on the west-facing Long Beach, towards the northern end of Koh Lanta Yai. Therefore, beautiful sunsets over the sea are almost guaranteed each evening, and the dive sites are all within easy reach. They visit Koh Haa, Koh Phi Phi (including Koh Bida Nok & Nai), Hin Daeng & Hin Muang, and offer a whole range of PADI diving courses in almost every popular language.
Learning to dive on Koh Lanta, as well as fun diving, needs to be as much fun as possible, while also remaining comfortable, convenient, and of course, safe. Palm Beach Divers pride themselves on all of the above.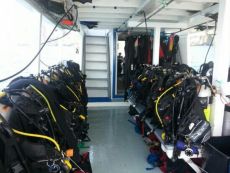 Their management team is French but they have bi-lingual and multi-lingual staff who are on offer to give help and advice. While their dives and courses include high-quality diving equipment, they also offer a full range of Aqualung diving gear in their large retail shop.
Unlike most other Koh Lanta diving centers, Palm Beach Divers own and run two boats. One is large and comfortable, leaving at 8am and returning at 4pm, she can easily accommodate up to forty divers in comfort, with her 22m.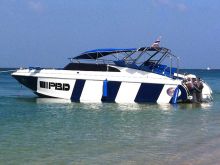 length and plenty of areas to relax, socialize or prepare for the diving ahead. Of course, complimentary breakfast and lunch are served on board. For those who are in more of a hurry to get back to Koh Lanta, or not good at getting up early in the morning, the twin 85hp motor speedboat leaves at 9am and returns at 1pm, offering fast and convenient two-dive day trips, then departs again for a single-dive trip in the afternoon. Click on the tabs above this text to view pictures and more information, including prices, about Palm Beach Divers and their boats.
Course Prices
PADI Courses & Diving Instruction for Absolute Beginners
Course / Instruction
Price
Bubblemaker (Children older than 8 yrs)
5,000 THB (2 dives)
Discover Scuba Diving
5,000 THB (2 dives)
PADI Open Water Diver (Standard, 3 days)
15,000 THB (4 dives)
PADI Open Water Diver (Comfort, 4 days)
18,000 THB (6 dives)
PADI Advanced Open Water Diver (2 days)
14,000 THB (5 dives)
Emergency First Response (EFR)
4,500 THB
PADI Rescue Diver
14,500 THB
PADI Divemaster
(on request)
PADI Speciality Courses & Diving Instruction
Course / Instruction
Price
Deep Diver (Ages older than 15 yrs, 2 days)
11,900 THB (4 dives)
Enriched Air Diver (Nitrox) (Ages older 15, 1 day)
8,900 THB (2 dives)
Being a 5 Star IDC PADI diving center, Palm Beach Divers are able to offer a wide range of PADI courses here on Koh Lanta, more than just those listed. Please contact us for more information and personalized quotations.
The courses all include transfers to/from the guests' resorts on the island, all necessary PADI materials and certification fees, a full set of high-quality diving equipment and, for those on the bigger boat, two meals and drinks.
Koh Lanta national marine park entry and diving fees are not included in the above prices, and there is a small fuel surcharge for sailing to more distant dive sites, such as Hin Daeng/Muang and those near Phuket.
Diving Prices
Speedboat Diving Day Trips from Koh Lanta (2 dives per day)
Destination
Inclusive Price*
Koh Haa / Koh Phi Phi / Bidas
3,500 THB
Hin Daeng / Hin Muang
4,500 THB
Snorkelling / Non-diving adults
1,900 THB
Snorkelling / Non-diving children younder than 10 yrs
1,500 THB
Extras
Extra
Price
Extra dive
1000 THB
Nitrox
250 THB / tank
Dive Computer
300 THB / day
Prescriptive Mask
300 THB / day
All the day trip diving prices include transfers to and from your resort on Koh Lanta, and a full set of good-quality diving equipment. Guests on the large boat are treated to breakfast and lunch, as well as soft drinks and water. National Marine Park entry and diving fees (applicable to dive sites such as Hin Daeng/Muang) are not included in the prices.