Islands 2 & 4 are in front of The Lagoon, and many people bundle the beach and two tiny islets together as one dive site. However, it's also not unheard of to separate the outer reef areas of islands 2 and 4 and enjoy complete dives at one or the other. To be honest, unless something very special is seen out here, it is very difficult to enjoy 45-60 minutes just at Barracuda Blue (2) or Snapper Bonanza (4) because neither are really big enough.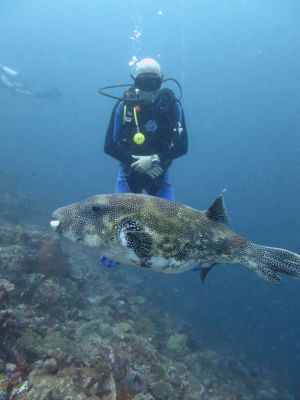 Porcupinefish (Diodontidae) Photo by Emmy AhlénThey have sloping rocky reefs which drop away from their respective limestone islets and the depths can exceed 30m for the adventurous diver. However, the colourful corals and swimming marine life tends to live in shallower water nearer to the island. Barracuda Blue is obviously named for the large numbers of Barracuda which can be seen swimming in the deep blue waters, waiting for some unlucky prey fish to snap up. There is a better chance of seeing one of the more shy shark species out here, such as Whitetip Reef Sharks (Triaenodon obesus) and Blacktip Reef Sharks (Carcharhinus melanopterus).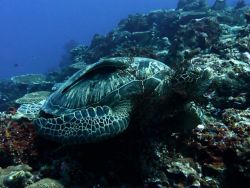 Green Turtle (Eretmochelys Mydas) Photo by Emmy AhlénThe water becomes even deeper out southeast from Island 4, across the mini dive site known as Snapper Bonanza, but there is very little to see down there and even less reason to waste air or risk drifting away from the dive boat. Lots of several species of Snapper (Lutjanidae) are always swimming around here in the crystal-clear waters. There's no land out in this direction for many miles, so the marine life benefits from all the nutrients swept to Koh Haa in the occasional currents. Hawksbill Turtles (Eretmochelys imbricata) and Green Turtles (Chelonia mydas) are seen from time to time, looking for some soft corals to munch on, or just to get away from the dozens of divers and snorkellers in The Lagoon. Smaller interesting species tend to be easier to spot nearer to Island 4, or on its other side, but macro enthusiasts still have some success out at Snapper Bonanza. As previously mentioned, it's not the easiest place to spend a whole dive at unless of course something very special is spotted. There is the possibility of a Whale Shark (Rhincodon typus) or Manta Ray (Manta alfredi) at certain times of year, and any which are seen certainly aren't going to venture into The Lagoon itself. For divers with time, patience and optimism, it's sometimes worth just hanging around Barracuda Blue and Snapper Bonanza looking out into the blue waters… just in case!