Koh Doc Mai (Koh Dok Mai) translates to 'Flower Island' in the local language. It is a great dive site, and although the furthest 'day trip' Phuket dive site from Koh Lanta, is well worth the journey. In addition, it is often visited by Koh Lanta liveaboard trips. From Koh Lanta, the tiny islet is just a short way past King Cruiser Wreck, Anemone Reef, and Shark Point.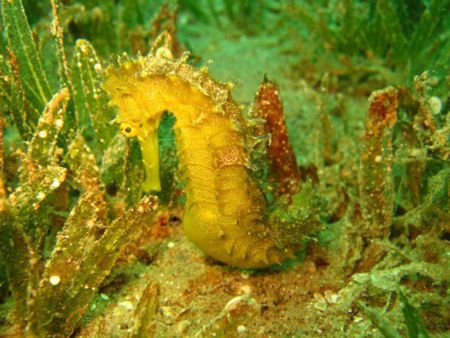 Yellow Tigertail Seahorse (Hippocampus) Photo by Emmy AhlénIt is an uninhabited island with nothing to do and not much to see above the water's surface. However, once below the waves, this oasis is as good as anything else in the area. The colours and healthy marine life are a wonder to behold and the fact that the crowds usually flock to the aforementioned three dive sites, Koh Doc Mai is often very quiet or even empty.
A limestone island juts out of the sea in Phang Nga Bay from a sandy bottom of 30 metres. On three sides there is a steep wall almost vertical to the seabed and on the west side of the island the island's wall slopes gently away, making for an easy dive for those who aren't as experienced. Although the deepest parts are as far down as 30m or more, the best life is to be found at around half this depth. Here the light interacts with the hard and soft corals and hundreds of anemones. It's just like a flower garden and easily reminds divers of why they took up the sport in the first place. Admittedly, large and exciting fish and sharks are not seen here as often as in some other Phuket diving locations, but the colours and smaller marine life really are beautiful.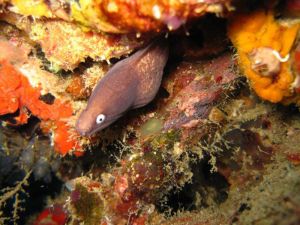 White Eyed Moray Eel (Gymnothorax Thyrsoideus) Photo by Emmy AhlénThe most sought-after creatures here at Koh Doc Mai are tiny bony fish, including seahorses, pipefish and frogfish. There are dozens of species of hard and soft invertebrates, including nudibranchs, crabs and shrimps, and cephalopods such as cuttlefish and the odd octopus. Yes, it's possible to see a Leopard / Zebra Shark (Stegstoma fasciatum) or a Blue-Spotted Stingray (Neotrygon khulii) but these can usually be found at other dive sites visited by Koh Lanta diving boats. The specialized smaller creatures are well worth trying to find. Of course, they use their small size, camouflage and behavior to hide from predators, so they can be difficult to spot even when your Divemaster is pointing directly at them for you. Here is when it's worth paying attention at the pre-dive briefing to all the hand signals used for each type of fish or invertebrates. The Frogfish (Antennariidae) is particularly hard to notice. Ornate / Harlequin Ghost Pipefish (Solenostomus paradoxus) is normally larger than a frogfish or seahorse, but incredibly well camouflaged. Sightings of these are normally enough to satisfy most divers.
Getting a decent photograph is even better. There are a few Yellow Tiger Tail Seahorses (Hippocampus comes) in this part of Thailand and at least one reported to live at Koh Doc Mai. One other fish which is a little special to Koh Doc Mai is the White Eyed Moray Eel (Gymnothorax thyrsoideus). Other, more common, species of morays can be found at Koh Phi Phi and other Phuket and Koh Lanta diving sites, but the White Eyed species is quite rare and can be seen here on most days.
Both on the steep walls surrounding three sides of this dive site and on the sloping reef, there are lots of other interesting creatures to spot, and the small size of the island should encourage divers to circumnavigate it at a slow pace, so as to maximize the chance of seeing as much as possible. Currents can be medium to strong at times, but there's usually enough shelter to still enjoy a slow and lazy dive or hang around in one place when something special has been spotted. Although quite a distance for a diving day trip from Koh Lanta, Koh Doc Mai offers lots of colour and healthy marine life. With so much to talk about, the trip back to Koh Lanta will fly by.