Emerald Cave, Koh Mook is a unique diving site in the south of Thailand. The word 'cave' might put some divers off, but it's actually a very simple dive, and visited more for its above-the-surface experience than for what divers can expect to find when submerged. Located on the west side of Koh Mook, this is one of the most popular places in the area to visit.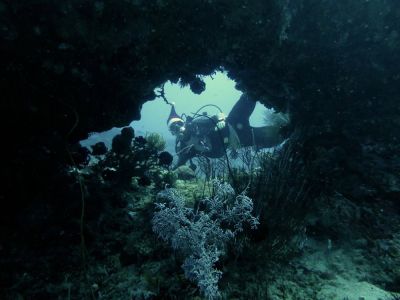 Emerald Cave Photo by Emmy Ahlén It is claimed that pirates and smugglers used the hidden bay which has an entrance that is either partly or entirely submerged, depending on the tides. Diving at Emerald Cave in Thailand is not as exciting as at some other dive sites in the area, but the experience of having to swim or dive through the secret passage and emerge in the bay, surrounded by nature makes going there very much worthwhile.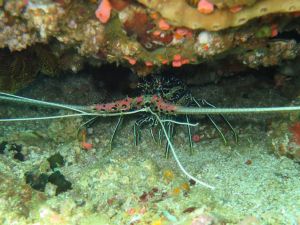 Lobster Photo by Emmy AhlénAfter leaving the boat, divers with their equipment or swimmers with 'dry bags' consisting of cameras and maybe a picnic will swim through about 70m. For swimmers, this can't be done at high tide without having to dip under the water at the entrance and is generally not recommended. Divers can sink to the bottom and follow the passageway into the darkness. Dive torches should be taken, although not needed at the start and end of the journey, they certainly will be in the middle. Fish live in the passageway, but are generally young members of several schooling species. The protection of the 'cave' acts as a great nursery. There's next to no coral inside the dark areas, as sunlight is necessary for them to flourish, but there are plenty of crustaceans for the eagle-eyed. Marine life exists inside, but it's nothing special compared to what is on view at other diving sites in the area. Visitors come here in order to enjoy the experience of coming out of the passage / cave into the bay. Here they will enjoy very clear and turquoise waters, a white sandy beach, and vertical limestone cliffs covered in healthy flora.
Due to shallow depths in the passageway cave, divers are able to enjoy a very short surface interval at the beach before gearing up again and exiting the cave the way they came in. Depending on the sea conditions and how much air they have left in their tanks, they can explore the exterior walls, which are home to some corals, anemones and some interesting marine life. Depths don't exceed 16m, so unless there's a reason for a particular diver in the group to be overexcited, it's easy enough to spend an hour underwater here at Emerald Cave. Unfortunately, there isn't really enough to keep most divers occupied for that long.