The Similan Islands are quite a distance from Koh Lanta. The dive sites are quite far from everywhere, in fact. 60km from Khao Lak, which is the nearest point of mainland Thailand, but considerably further from the island of Koh Lanta, which is tucked behind Phuket and even Koh Phi Phi.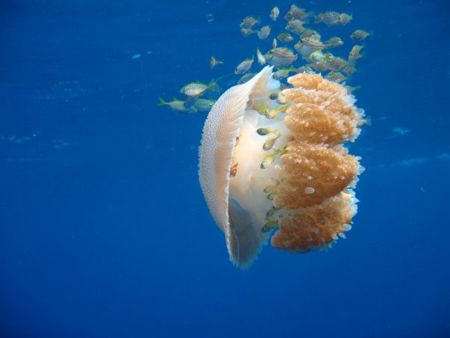 Jellyfish Photo by Emmy Ahlén However, with a few boats running liveaboard trips from Koh Lanta to nearby dive sites around Koh Haa, Phi Phi and Phuket, some even venture out to the Similan Islands, and they have good reason to. Out at the Similans, the diving is considerably better than the rest of Thailand, mainly due to its remote location. The waters surrounding the Similan Islands are deep and clear. There's no pollution and very little boat traffic other than those diving and/or snorkelling. The only accommodation is a few huts which are run by the authorities, and even a couple of the islands are owned by the Thai Royal Family and therefore out of bounds. This really is a place for those who want to get away from it all, while enjoying crystal-clear turquoise waters and the abundant marine life which live among its corals.
The diving sites at the Similan Islands in Thailand usually consist of granite boulders at depth and sloping coral reefs on sandy sea beds in shallower areas. While some of the dive sites, such as Deep Six and Chinese Wall are really only for those with a good deal of experience, there are also the likes of Breakfast Bend and Anita's Reef which can be dived by anyone from absolute beginners to PADI professionals.
Diving at the Similan Islands really is a great experience. There's a good chance of seeing some large cartilaginous fishes, such as sharks and rays. Manta Rays (Manta alfredi) and Whale Sharks (Rhincodon typus) being most divers' favourites. There's lots of colour from the corals, anemones and reef fish, and visibility is generally better than anywhere else in Thailand. During the best part of the diving season (December-March) the sea and weather conditions are ideal for enjoying a scuba diving liveaboard cruise. Currents can be an issue sometimes, but the best tour leaders will plan the dives to take advantage of them. Diving at the Similan Islands is only possible between mid-October and mid-May, and at the beginning and end of the season the waves can become a problem for smaller boats and divers trying to get back on board after a dive.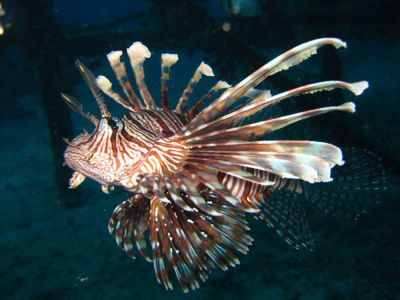 Lionfish Photo by Emmy AhlénThe islands are home to pristine beaches and mini rainforests, and surrounded by wonderful seas for diving, snorkelling and swimming. Similan liveaboard boats all stop off at the best beaches, including Donald Duck Bay, and take guests to relax, play or explore on a few of the islands. Although the trip all the way from Koh Lanta may appear quite long, it is usually done overnight. Guests board the liveaboard boat in the afternoon, getting to know one another, learn about the boat's safety procedures, and have dinner, then cruise west, past Phi Phi, Phuket and out into the Andaman Sea, arriving at The Similan Islands during the night and start diving in the morning.
Similan liveaboard trips normally consist of four dives per day; three day dives and one at night. For physiological reasons, the first should be the deepest, and most day dives are limited to one hour if the divers can last that long. Depths can exceed 30m quite easily and even without divers realizing it, such is the visibility. Night dives at the Similan Islands are normally in bays and coves and limited to 30 minutes. Donald Duck Bay is a favourite. The diving is certainly among the best possible in Thailand and the marine life seen is usually the topic for all conversations between dives. There's a vast selection of bony and cartilaginous fishes, both pelagic and reef-dwelling. Invertebrates consist of cephalopods, crustaceans, sea stars and nudibrachs. Corals and anemones provide food and shelter for much of the aforementioned.
Those looking for something in particular need only ask their Divemaster or tour leader, and it's likely to be found. Of course, the likes of Manta Rays and large sharks have their own agendas, and sightings can't be predicted. Whatever divers see while diving at the Similans from Koh Lanta, satisfaction is almost guaranteed in these clear, tropical waters teeming with healthy marine life and corals.