One of Koh Lanta divers' favourite diving sites is Shark Point, Phi Phi. This is not the same Shark Point between Koh Phi Phi and Phuket, but a much less dived location in open sea not too far (8km) from Koh Phi Phi Lei (pron. ko pee pee lay).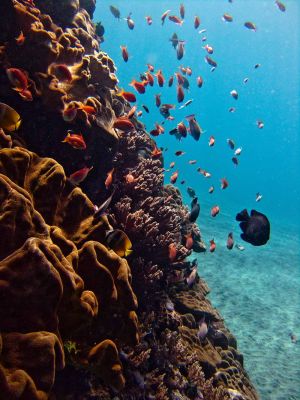 Shark Point Phi Phi Thailand Photo by Ilse Reijs & Jan Noud HuttenIt is an undersea mount which barely breaks the surface of the water and is located easily within the routes of Koh Lanta diving day trip and liveaboard trips. Luckily for those coming from Koh Lanta, Shark Point Phi Phi is just a little bit too far and not interesting enough for Phuket diving boats, as well as most of those coming from Phi Phi. Yes, they do come, but not as often as the dive site deserves. It's not the most exciting or deepest dive site in the area, making it a bit of an effort for those coming on local day trips with inexperienced divers. This is ideal for Koh Lanta divers, especially on the days when conditions make it suitable for all.
On most days Shark Point Phi Phi is generally more suited for those divers with experience and Open Water certification or higher. It is exposed to the open sea, often resulting in choppiness at the surface and occasional currents. However, this also makes the dive site more often than not a place with great visibility and lots of interesting marine life. Its name comes from the fact that just about every day it's possible to see Leopard Sharks (Stegostoma fasciatum) here. There are occasional sightings of other sharks, too, but Leopard Sharks are almost ubiquitous at this dive site.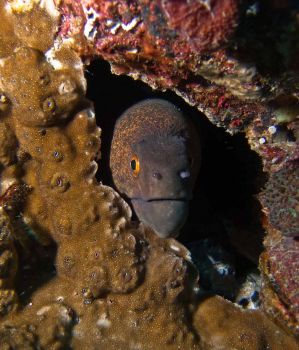 Giant Moray (Gymnothorax) Photo by Ilse Reijs & Jan Noud HuttenThe topography of Shark Point Phi Phi is interesting, but not exciting or difficult. It's quite a simple sea mount with a maximum depth of 18m on its south side and a little deeper (21m) on the northern face. The peak breaks the surface, but only just, and there's no land to speak of and certainly no beach. Below the waves, the dive site is an ideal size and shape to be circumnavigated in either direction at a relaxing speed to fill a one-hour dive. Although it's not really special enough to dive twice in a row, like Hin Daeng, for dive boats from Koh Lanta, it's a great place to stop off at on the way out to or back from Phi Phi or Phuket. The sea mount is surrounded by a sandy seabed, much of which is dotted with barrel sponges, large clams and bommies, many of which have their own little ecosystems. Like most exposed dive sites, the smaller creatures here, such as invertebrates and reef fish, spend their entire lives at the one dive site. Larger fish and some reptiles will visit and maybe spend a little time here before moving on. The real bonus about diving at dive sites such as Shark Point, Phi Phi is that every now and then something special swims by.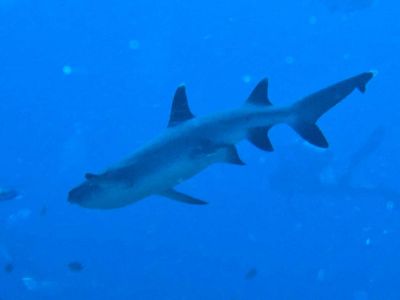 Whitetip Reef Shark (Triaenodon Obesus) Photo by Ilse Reijs & Jan Noud HuttenPelagic fish are any species which don't live in a fixed place, and roam around seas and oceans. The most exciting in these waters are Whale Sharks (Rhincodon typus) and Manta Rays (Manta alfredi) which are large, majestic, harmless, filter-feeding giants. Tuna, Barracuda, Trevally and many other larger species also pay a visit to sea mounts such as this, but it's important never to expect them. It's best to just jump in, look for small stuff, that many others may miss, and keep an eye and an ear open for anything special that may be swimming by.
While watching the reef at Shark Point, divers are likely to spot Moray Eels (Gymnothorax), which hide most of themselves in holes during the day, just sticking their heads out. Mantis Shrimp (Stomatopods) and lobsters are common residents here, with the former more likely to be seen in daylight hours. There are plenty of other invertebrates, as well as a good selection of reef fish, and even the chance of a turtle or sea snake.
While novice divers are probably not best suited for diving at Shark Point, Phi Phi, and professional divers finding that the dive site doesn't offer enough excitement, this should not put regular, certified PADI divers off. It's a great dive site, rarely visited by those dive centers other than Koh Lanta and a few from Koh Phi Phi.