These two uninhabited islands lay either side of the invisible border between The Similan Islands National Marine Park and The Surin Islands National Marine Park. They are probably the very best diving spots in Thailand to have the opportunity to see Manta Rays, due to the deep and clear surrounding waters and healthy coral reefs. There are at least three dive sites here, as well as plenty of opportunities to enjoy fantastic snorkeling. In addition, at Koh Tachai there is a pristine beach for relaxing or sports during the surface interval between dives. From Koh Lanta, these great dive sites are only reachable by liveaboard cruise, but they are well worth the journey.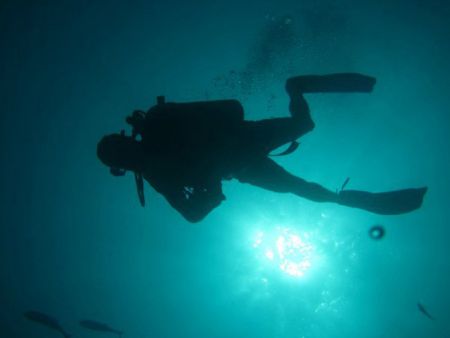 Diver Photo by Emmy AhlénOut at sea on Thailand's west coast, scuba divers can choose from a selection of fantastic diving sites. Some are colourful reefs and able to be dived by any level of scuba diver and even enjoyed by snorkellers. Others are more extreme and often quite deep. Such as 'Deep Six' and Richelieu Rock, which are unsuitable for inexperienced divers and snorkellers, but exciting for their topography and marine life. Koh Tachai and Koh Bon are the perfect balance of both. They offer exciting diving, with the chance of seeing large pelagic rays and sharks, as well as something for snorkellers and inexperienced scuba divers. Their only disadvantages are their remote location, which makes them what they are, and the national park fees which are an unavoidable extra cost to each visitor.
There are at least three great diving spots at Koh Bon and Koh Tachai, with two of those being at Koh Bon, the southern of the two islands. Koh Tachai has a wonderful beach, whereas at Koh Bon there is nowhere to set foot on land, but plenty to see underwater. Koh Tachai is a little more extreme, and probably offers the best chances to swim with Manta Rays (Manta alfredi) but these are also spotted at Koh Bon's two dives site, as well.
Starting with Koh Bon, which is situated at the northern edge of Mu Ko Similan (Similan Islands National Marine Park), where there are two quite different diving sites. The first is Koh Bon Ridge, a gently sloping reef with a steep and deep drop off wall. Koh Bon Ridge is set in a little cove or bay in the southwest corner of Koh Bon (Bon Island). The other site is Koh Bon Pinnacle, which is to the northwest end of Koh Bon. This dive site is not for beginners, as it is all deep. There's no reef or corals near the surface, and the experienced boat captains have to know where it is, as there are no markers at the surface. However, it is well worth the effort.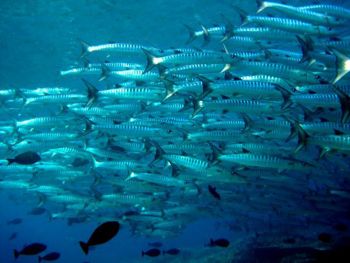 School of Barracuda (Sphyraena) Photo by Emmy AhlénOpen Water divers would really need to have done an Adventure Deep dive before visiting here, as the top of the highest (shallowest) pinnacle is at a depth of 18 metres. Its twin starts at a depth of 24 metres and both descend deeper than most fun divers would want, need, or be able to reach on a standard 12 litre tank of air. The island itself is limestone, unlike much of what the Similans are made of, which is granite boulders. The corals and anemones are made up of many different colours and consist of hundreds of species, although they are not as vibrant as those at Richelieu Rock and some Similan Islands diving sites. However, the marine life here is out of this world.
Most divers come here in the hope of seeing Manta Rays, but there are plenty of other members of the marine life community to keep everyone entertained until the Mantas arrive, or in case they don't.
Finally, at the more northern of these two uninhabited and wonderful islands is Koh Tachai (Tachai Island) where some people have seen both Manta Rays and Whale Sharks (Rhincodon typus) on the same dive, sometimes at the same time! In addition, there's a pristine beach on the island and plenty of space to snorkel or relax out of the water.
Koh Tachai dive site is basically two huge submerged plateaus on the southwestern corner of the island. The conditions at Koh Tachai are what make it unsuitable for inexperienced divers. Being on the west side of the island means it is exposed to the open sea. Waves and currents can affect the diving, as well as the journey, but this shouldn't put anyone off who wants to come and experience the best diving in Thailand.