Hin Daeng means 'Red Rock' in the local language. It probably gets its name from the vast number of colourful corals, many of which nearer the surface are red in colour. It is a deep dive site and not one to be dived by novice or inexperienced divers. Both underwater currents and choppiness at the surface due to its location can make Hin Daeng quite challenging. The dive site is located southwest of Koh Lanta at a distance of approximately 50 kilometres. Koh Lanta liveaboard boats are at the best advantage to dive Hin Daeng, as they can hang around and choose the perfect times to enter the water.
Sea Fan Photo by Ilse Reijs & Jan Noud HuttenThose coming from Koh Lanta on a diving day trip at Hin Daeng most commonly do so by speedboat and dive once mid-morning then again after lunch. Being so far from land means that there is not only a great deal of deep water around, there's also no protection from the wind. Both surface waves and currents can be an issue at Hin Daeng. The waves only affect the time spent at the surface, which is normally not long - waiting for the rest of the dive group to be ready to descend to the dive site at the beginning, and waiting for and getting back on the boat. Any surface current may cause a diver to drift away from the best point to descend to while waiting for others, and currents below can be medium to strong, but not all the time. There is some protection from all this moving water, but there's no sense in coming to such a great dive site then having to hide from all the action. Also, one must remember that sea currents are excellent for healthy marine life, in particular large pelagic species.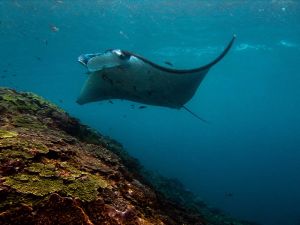 Manta Ray (Manta Alfredi) Photo by Ilse Reijs & Jan Noud HuttenThe topography of Hin Daeng is quite simple. It is a vast undersea mount which just about breaks the surface of the sea. There's absolutely nowhere to stand up, and of course, no beach or vegetation. The conical-shaped seamount is very deep at its deepest point, and some divers talk of descending to 60 metres or more. For most recreational scuba divers, there's very little point in diving below 30 metres, with air consumption and maximizing total dive time the main factors. In addition, there's very little to see down there and the light is diminished greatly at such depths. With the dive site's peak being at or just above the surface, it's possible to enjoy the marine life here throughout the dive, including during the necessary safety stop. Upon surfacing, divers will need to swim or drift away from the rocks in order to board the dive boat.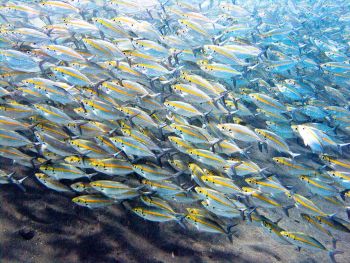 Large School Photo by Ilse Reijs & Jan Noud HuttenWhat is there to see here at Hin Daeng? Well, let's start with the big stuff. Most divers come here hoping to see a Whale Shark (Rhincodon typus) or Manta Rays (Manta alfredi) and they have good reason to do so. These two huge filter feeders regularly pay a visit to Hin Daeng, depending on the season, the sea conditions and their mood. In Thailand, Hin Daeng (and its sister site, Hin Muang) and Richelieu Rock, near the Burmese border, are regarded as the best places for sightings of these majestic creatures. However, seeing either of these two is by no means guaranteed, and there is still plenty more to come across and look out for. The corals are colourful and healthy, with almost no human intervention and plenty of nutrient-rich water passing by day and night. The hard and soft corals, anemones, sea fans and sponges all make this an excellent home, shelter, or restaurant for lots of swimming and walking sea creatures. Giant Moray Eels (Gymnothorax javanicus) are the most common of their type, but it's also possible to see Honeycomb (Gymnothorax favagineus) and White-Eyed (Gymnothorax thrysoideus) species, as well as Ribbon Eels (Rhinomuarena quaesita). There are Anemonefish (Amphiprionae), Lionfish (Pterois), and lots of larger reef and pelagic fish, both swimming alone as well as in large groups. Barracuda (Sphyraena) are always an exciting sight, and there's also the chance of seeing a medium-sized shark of several other species, although they tend to be shy and soon swim off into the blue. Talking of 'the blue' Hin Daeng usually has excellent visibility, due to its exposed location and deep water. This makes it easier to see large fish away from the reef and stay in touch with one's buddy and Divemaster without getting too personal. On a good day, there is no better dive site in Thailand than Hin Daeng. Good days can't be predicted, but whatever divers see and experience out there, they always come back with plenty to talk about.