The islands of Koh Mook, Koh Ngai and Hin Nok are all 20km.+ south-southeast from Koh Lanta. There are some well-known dive sites in this area, as well as some which don't receive as many visitors but are still good enough to entertain divers of most levels of experience and certification. This group of islands, many of which are uninhabited, are generally surrounded by shallow water and sandy reefs, making them more suited to snorkelling than diving.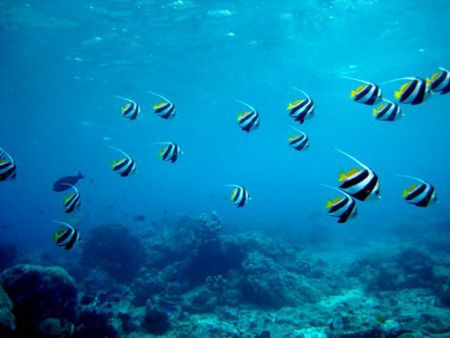 Moorish Idols (Zanclus Cornutus) Photo by Emmy AhlénHowever, there is plenty of deeper water not too far away and this ensures that lots of nutrients come to feed the reef fish, corals, anemones, sea fans and crustaceans. There are even reptiles such as sea turtles and sea snakes which are seen here from time to time.
Koh Ngai 'Easy Island' is the nearest to Koh Lanta, and Hin Nok 'Bird Rock' is furthest, with Koh Mook being the largest and sitting in between the two. There are a few other islands between Koh Ngai and Koh Mook, such as Koh Waen 'Ring Island,' Koh Maa 'Horse Island' and Koh Chueak 'Rope Island.' All of which have at least one noteworthy dive site. There are just a few kilometres between each, so it's easy to sail from one to another during a surface interval.
The diving in these waters tends to be quite shallow and easy, with plenty of colourful marine life and good visibility. Snorkelling is also very popular around here, as there's so much colourful and healthy life near the surface. While there's nothing outstanding at any of these dive sites, they offer new and learning divers plenty of opportunities to dive for up to an hour, as well as underwater photographers the chance to find smaller species in shallow current-free water, thus enabling them to take the best pictures.
Koh Nok is furthest south and, although having some great corals, topography and marine life, isn't usually worth the extra travelling from Koh Lanta, and therefore gets visited more by Trang and Ko Mook diving centres, usually by longtail boat.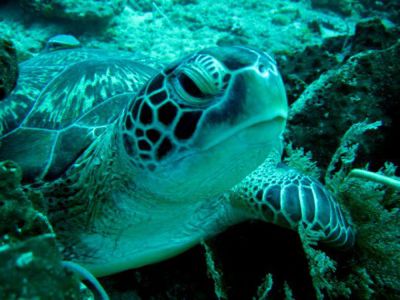 Green Turtle (Eretmochelys Mydas) Photo by Emmy AhlénKoh Waen, Koh Chueak and Koh Maa are all nearer to Koh Lanta and therefore visited more often by Koh Lanta diving boats. They are all situated between Koh Ngai and Koh Mook and are laid out in a north-south orientation in the following order; Koh Maa, Koh Chueak, Koh Waen. None of them have beaches, but all three have good diving around their limestone cliffs which jut out of the crystal-clear turquoise waters. The topography below the surface is a mixture of rocks and boulders, interspersed with sea fans and some bommies. While these islands and their dive sites are not as dramatic or exciting as others in the area, it could be argued that a good dive site with few or no other diving groups is as good as or better than a great dive site that is crowded with divers from several other boats. Therefore, it's well worth visiting these spots, especially if your group or boat is the only one doing so. There's always lots of reef fish and colourful and healthy corals, sea fans and anemones. Sea cucumbers, sea stars and nudibranchs shared the sandy seabed between coral colonies and bommies, and there's always the chance of seeing a Blue-Spotted Stingray (Neotrygon kuhlii) resting on the sand somewhere. Looking like some kind of alien species, both snorkellers and divers may find themselves looking at a Cuttlefish (Sepiida), which will then put on a show of colour and texture changes in an attempt to ward the humans off. In fact, these are cousins of octopuses, but unable to squeeze through small gaps. Therefore, they try to scare away those who they feel threatened by until they feel the time is right to make an escape into open water.
There are lots of reef fish around these islands and the currents are rarely strong enough to be noticed or an inconvenience. Visibility is usually very good (20m.) and the corals healthy. The only real reason that these dive sites aren't visited as often as others in the area is that most Koh Lanta dive boats have more experienced divers aboard who want to dive deep or see something special. In addition, Koh Haa is a similar distance from Koh Lanta and offers a little bit more of everything.