Koh Racha Noi is the smaller of the two Racha Islands located just a short distance south of Phuket, quite far from Koh Lanta. It lies 60km due west from Koh Lanta, past Koh Phi Phi and a similar distance as Phuket is from Koh Lanta diving centres. However, people would travel to Koh Racha Noi and Phuket for two very different reasons. Racha Noi is the more remote and slightly smaller of the two Racha Islands and offers nothing in the way of tourist shopping and nightlife.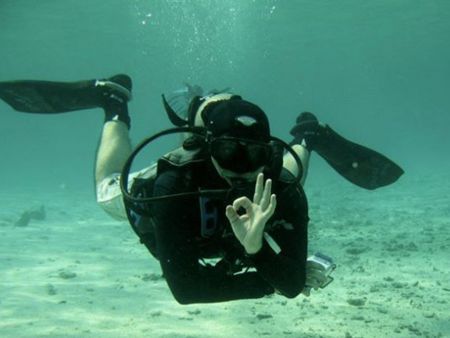 Scuba Diver Photo by Emmy AhlénIn fact, it's uninhabited and has very little land that can be used for anything. However, for diving, this place is like a secret hidden gem. With so many tourists, including diving tourists, going from Phuket to Koh Phi Phi, Koh Lanta and the Similan Islands, Koh Racha Noi gets overlooked. Day trips and liveaboard cruises from Koh Lanta are possible to Koh Racha Noi and usually worth the effort.
Diving at Racha Noi is not really suitable for beginners, as the depths and currents tend to be a little more challenging, however, the rewards are worth it, as there is a fair chance of seeing Manta Rays (Manta allfredi) and one or two species of sharks. In addition to 'The Rock' which is located between Racha Yai and Racha Noi, there are at least three good diving sites, all of which offer something interesting for those prepared to make the journey and deal with sometimes challenging conditions.
At the far southern tip of this island (which is actually two limestone pinnacles which break the surface) is a deep and interesting dive site known as South Tip/Reef/Point, depending on who you're listening to. Depths exceed 30m in places and this is the most likely location to see a Manta Ray at certain times of year. Whale Sharks (Rhincodon typus) have also been reported, but far less frequently.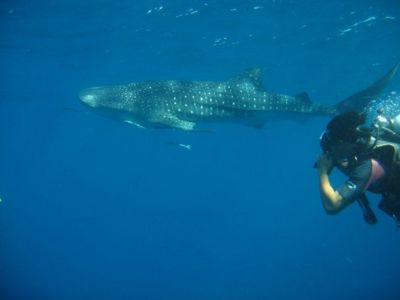 Whale Shark (Rhincodon Typus) Photo by Emmy AhlénFurther north, along both sides of Racha Noi, are several lesser dive sites. On the west side the conditions tend to be harsher due to its exposure to the Andaman Sea, then the Indian Ocean. The eastern side of Racha Noi gets more protection and although marine life isn't as exciting, it's less challenging to be in the water, particularly regarding waves at certain times in the season. At the northern end of the uninhabited limestone island divers can visit Banana Bay and North Point. The former being quite easy and the latter deeper and more challenging. The most extreme dive site at Racha Noi is actually just off the island's north. It's granite boulder sitting in 50m of clear water and home to lots of exciting marine life. Due to its location, sea conditions can make it quite challenging, but those prepared to accept the challenge may well benefit from a wonderful experience and probably with very few or no other diving groups there at the time.
Creatures likely to be found at Racha Yai include the aforementioned rays and sharks, as well as the ubiquitous to this area Leopard / Zebra Shark (Stegostoma fasciatum). There are quite common sightings of Nurse Sharks (Ginglymostoma cirratum) as well as Blue-Spotted Stingrays (Neotrygon khulii). Reef and pelagic fishes come in all shapes, sizes and colours. Some are here just to feed while others never leave. Triggerfish (Balistidae), Parrotfish (Scarinae), Snapper (Lutjanidae), and Trevally (Carangidae) are examples of mid-sized fishes living here. Invertebrates and corals add life and colour and are more active at night, although many of Racha Noi's dive sites are not really suitable for night diving.
Overall, this uninhabited limestone twin islet is a wonderful place for recreational scuba diving far from the crowds and nightlife, but too far to make travelling there a chore. Koh Lanta diving trips don't visit very often, but those which do are rewarded with excellent diving in deep clear waters.