Koh Kraden is a small island 20km. south/southeast of Koh Lanta and just 4-5km. southwest of Koh Mook. It is best known for the underwater weddings which take place there, especially on Valentine's Day each year. However, serious scuba divers who want to do more than tie the knot in shallow water can still enjoy some 'proper diving' at Koh Kraden.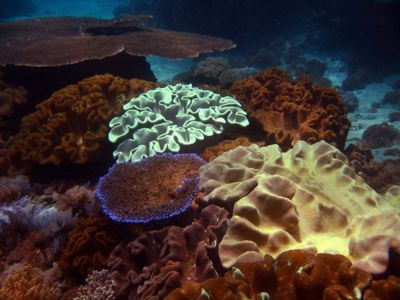 Hard Corals Photo by Emmy AhlénThe diving is generally easy and not too exciting, but there are a couple of highlights. It is normally visited as part of a day trip to one of the other islands in the area, or for specific reasons, such as sea or weather conditions.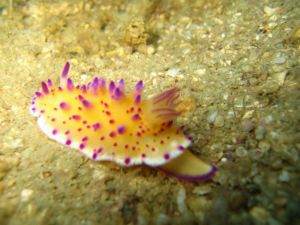 Nudibranch Photo by Emmy AhlénKoh Kraden is a long thin island with a north-south orientation. Generally, its reefs are quite shallow, with healthy marine life, but nothing that can't be found at dive sites which offer more experienced divers greater depth or something special. Koh Lanta diving centres come here from time to time, and there is a wreck on the island's west coast. In addition, at the southern tip of the island, the water is deeper and subject to currents. Therefore the marine life, both fish and corals, gets plenty of food and can flourish.
Koh Kraden Wreck, as it's known, is a Japanese destroyer which sank towards the end of World War II. It sits at about 25 metres but visibility is not very good there, mainly due to a thermocline. When currents aren't present, it's possible to spend up to 50 minutes exploring this wreck. It has broken up and there are fishing nets over much of its structure. Those who are patient and observant are likely to see seahorses around the wreck. However, like most wrecks in these waters, it's also important to be careful what to touch or hold on to. Scorpionfish (Scorpaenidae) often settle on the structure waiting for prey to swim past their mouths. Touching the dorsal fins of such a fish would ruin one's dive, and probably the rest of the holiday. Generally, it is a dive site that requires Advanced Open Water certification, but those who have done so may have already experienced an easier or more exciting wreck dive.
Around Koh Kraden there are some pleasant diving spots, but most of the reefs are shallow and easy and more suited to snorkelling than diving. Koh Lanta diving boats visit here and it's a nice and easy place to enjoy scuba diving. In addition, there's plenty to see above the surface during the break between dives.